HERSILL PRESENTS ITS PRODUCTS IN ARAB HEALTH – DUBAI, UAE – 24-27 JANUARY 2022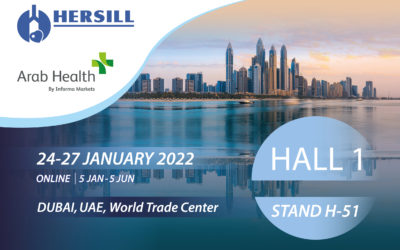 At ARAB HEALTH 2022, HERSILL will present its wide range of medical equipment in Medical Ventilation, Anaesthesia, Oxygen Therapy, Medical Suction, Ambulance Equipment and Emergencies. Don't miss the opportunity to receive a demo of any of our products exclusively, from 24 to 27 January 2022, in the city of Dubai, United Arab Emirates. HALL 1 – STAND H-51
This year, through the ONLINE platform, it contacts more than 3,500 exhibitors of medical equipment from around the world, accesses free intellectual leadership content and more than 190 educational sessions to choose from with more than 450 international speakers.