LA MONCLOA | PRESIDENT | NEWS | Madrid |15 JULY 2021
ROYAL HOUSE | HIGHLIGHTS | Madrid |15 JULIO 2021
Cover image: Pool Moncloa / Fernando Calvo
Last Thursday, July 15, 2021, one year after the beginning of the pandemic in our country, HERSILL, as an essential company, had the pleasure of being invited to the State Tribute ceremony held in the Plaza de la Armería of the Royal Palace of Madrid in memory of all the victims of COVID-19. This year, paying special tribute to the health workers who worked on the front line in the fight against the coronavirus gave their lives putting themselves at the service of society to save thousands of Spaniards: more than a hundred health professionals died, to which is added about 130,000 infected.
HERSILL has played an important role in the fight against the virus, supplying in record time up to 5,100 ventilators, 51,780 flow meters, 16,540 vacuum regulators, 4,330 manual resuscitators and 2,720 portable suction units, among other medical equipment that was so much in demand during the health crisis.
The King and Queen of Spain presided over the ceremony, which was attended by the Chief Executive, Pedro Sánchez, all members of the Government, senior State officials, presidents of the autonomous communities and cities, and diplomatic and civil society representatives.
The event was attended by relatives of 102 health workers who died since the beginning of the pandemic, from all over the country. At the same time, the aim was to send a message of hope by attending the first vaccinees from several Autonomous Communities, as a symbol of the hope offered by science and vaccination and of the value of the community most affected by mortality during the pandemic.
GRAND CROSS OF THE ORDER OF CIVIL MERIT
His Majesty the King laid a wreath of flowers next to the already usual cauldron with the votive flame that burns in memory of the deceased, and later presented during the ceremony the Grand Cross of the Order of Civil Merit, representing all the medics honoured, to the relatives of four of them, chosen by age criteria representing the entire professional community.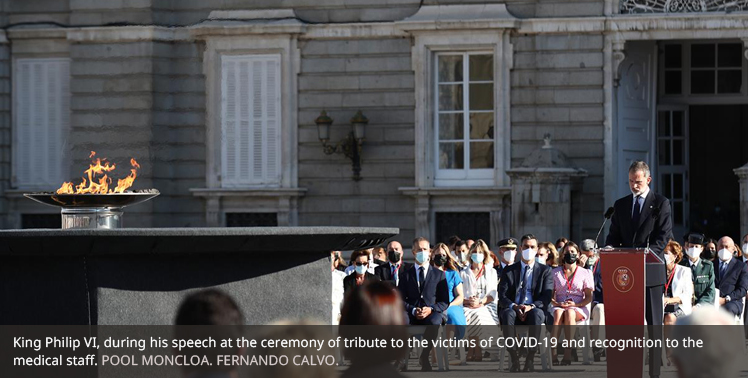 In his speech, Philip VI expressed the recognition and "infinite gratitude" of Spanish society to the health professionals who lost their lives "to save many others." His Majesty the King recalled the need to maintain sanitary precautions and stressed the hope provided by advances in scientific and medical research.
The remaining Grand Crosses of Civil Merit awarded posthumously have been presented to the families by His Majesty the King at a subsequent private ceremony at the Royal Palace.
With this event, the Royal Family, the institutions and the Spanish society as a whole want to express to the families of the health workers their pain and their gratitude for the work and total dedication shown throughout this time.
---
⊂MORE INFO ABOUT THE STATE TRIBUTE TO COVID-19 VICTIMS IN SPAIN AT THE ROYAL PALACE⊃
---